1832 Majani Cocktail Experience
34,00€
BIT0441109
NIO Cocktails takes you to the most traditional Japan with a special box of four exclusive cocktails, where a millennial culture meets the flavors of its territory. Everything at home. Discovering a vodka, a rum, a whiskey and a local gin. Bring home four tasting postcards from Japan.
Key Ingredients:
2 NIO Cocktails 1832: Rum Carúpano | Bols "Crème de Cacao White" liqueur| liquid sugar | organic citric acid

|
2 Scorza Grezza Majani 90% bars
The 1832 cocktail takes its name from the year of creation of the first solid chocolate in Italy by the historic company Majani 1796 - which historically was renamed "Cioccolato Scorza". This signature cocktail comes from a recipe by Patrick Pistolesi, designed to enhance the flavor of chocolate with the best spirits:

Rum Carúpano

Bols "Crème de Cacao White" liqueur

liquid sugar

organic citric acid.

The "Scorza Majani" is a crumbly dark chocolate which has been created from a secret recipe of 4 different cocoa mixes and it is produced with the ancient technique that the master chocolatiers are handed down from generation to generation. To further enhance its characteristics, the Scorza Grezza 90% was born, a cold-worked chocolate, without passing either in the basin or in the refiner, to preserve the granularity of the cocoa paste obtained from the grinding of the toasted grain.

Hand-mixed in Italy with the best spirits from all over the world
We'll take you home or wherever you like, a high quality and exciting tasting experience. Treat yourself or give someone you love a wonderful sensory moment: our cocktails are created on the recipe of Patrick Pistolesi and shipped in a design packaging entirely recyclable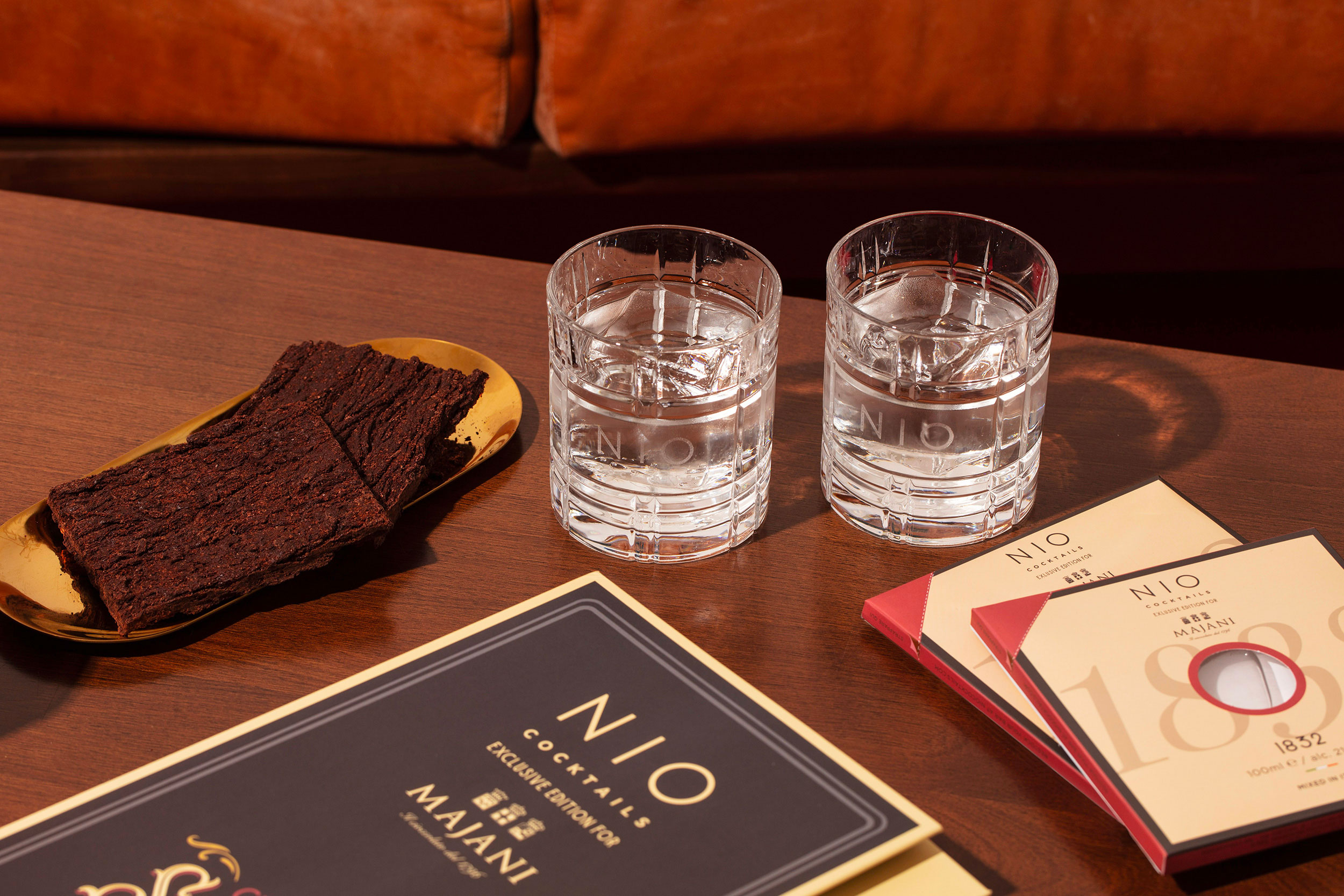 Majani and NIO Cocktails: a combination of quality
Majani was born in 1796 in a small Bolognese workshop, in Italy, and has always been a reference point for the world of quality chocolate. Teresina Majani, founder of the oldest family of chocolatiers in Italy, realizes the first delights of the Ancient House. In 1832 the ""Scorza Chocolate"" was born (which inspired our collaboration) and over the years the popularity of the brand grew more and more - also associating its name with that of FIAT in honor of the launch of the Fiat Type 4 car (hence the 4 layers). Today, as in the past, Majani 1796 realizes his chocolate masterpieces still following the traditional production methods and the ancient recipes handed down from generation to generation. The historical company's expertise is reflected today as yesterday in the excellent quality of its products that continue to sweeten Italian palates.