1832 Majani Cocktail Experience
34,00€
BIT0441109
NIO Cocktails and Majani 1796 present their sophisticated collaboration designed to enhance the pleasure of tasting in all its forms - from old recipes of the Majani chocolate masters to that of the exclusive, innovative NIO Cocktail 1832 created specifically for this special partnership.
Key Ingredients:
2 NIO Cocktails 1832: Rum Carúpano | Bols "Crème de Cacao White" Liqueur | Liquid sugar | Organic Citric Acid

|
2 Scorza Grezza Majani 90% bars
Can you imagine a sweeter tasting than a perfect cocktail combined with a high quality chocolate?

It's sweet not only for the tasting pleasure but also for the memories evoked. Majani knows well chocolate's ability to unleash unique sensations and offers us the chance to taste the NIO Cocktails 1832 with the well-known Scorza chocolate - surprising texture and unmistakeable taste for the oldest solid chocolate recipe in Italy, still not replicated by anyone.

NIO Cocktails 1832, the cocktail designed specifically to be accompanied by this chocolate, perfect to match with rum and whisky. That's why our master mixologist Patrick Pistolesi created an exclusive cocktail based on Rhum Canne Bleue, rum from Martinique whose production technique is handed down from generation to generation, and Majani chocolate. This special rum has been perfectly mixed with the Bols "Crème de Cacao White" liqueur to give an unmistakeable sweet, enveloping flavour.

The idea of 'tasting' embodies the pleasure of tasting something to experience and is behind the collaboration between NIO Cocktails and Majani 1796. NIO Cocktails 1832 and Scorza Chocolate create a unique combination, which certainly will not be missed by true 'chocoholics', a magical sensory experience to embrace the palate with never-before tried flavours.

Plan your perfect evening and be carried away by the sweet taste of chocolate. Imagine a winter evening at home, a perfect dinner with your favourite dishes, and your beloved. Now imagine finishing the dinner in the best way with a touch of sweetness that should never be missing.

Take the 1832 Majani Cocktail Experience, 2 glasses full of ice, shake the package, tear, pour and enjoy the moment. Drink with the Majani Scorza Grezza 90% bar and transform your simple evening at home into a special evening. Cheers!
Hand-mixed in Italy with the best spirits from all over the world
We'll take you home or wherever you like, a high quality and exciting tasting experience. Treat yourself or give someone you love a wonderful sensory moment: our cocktails are created on the recipe of Patrick Pistolesi and shipped in a design packaging entirely recyclable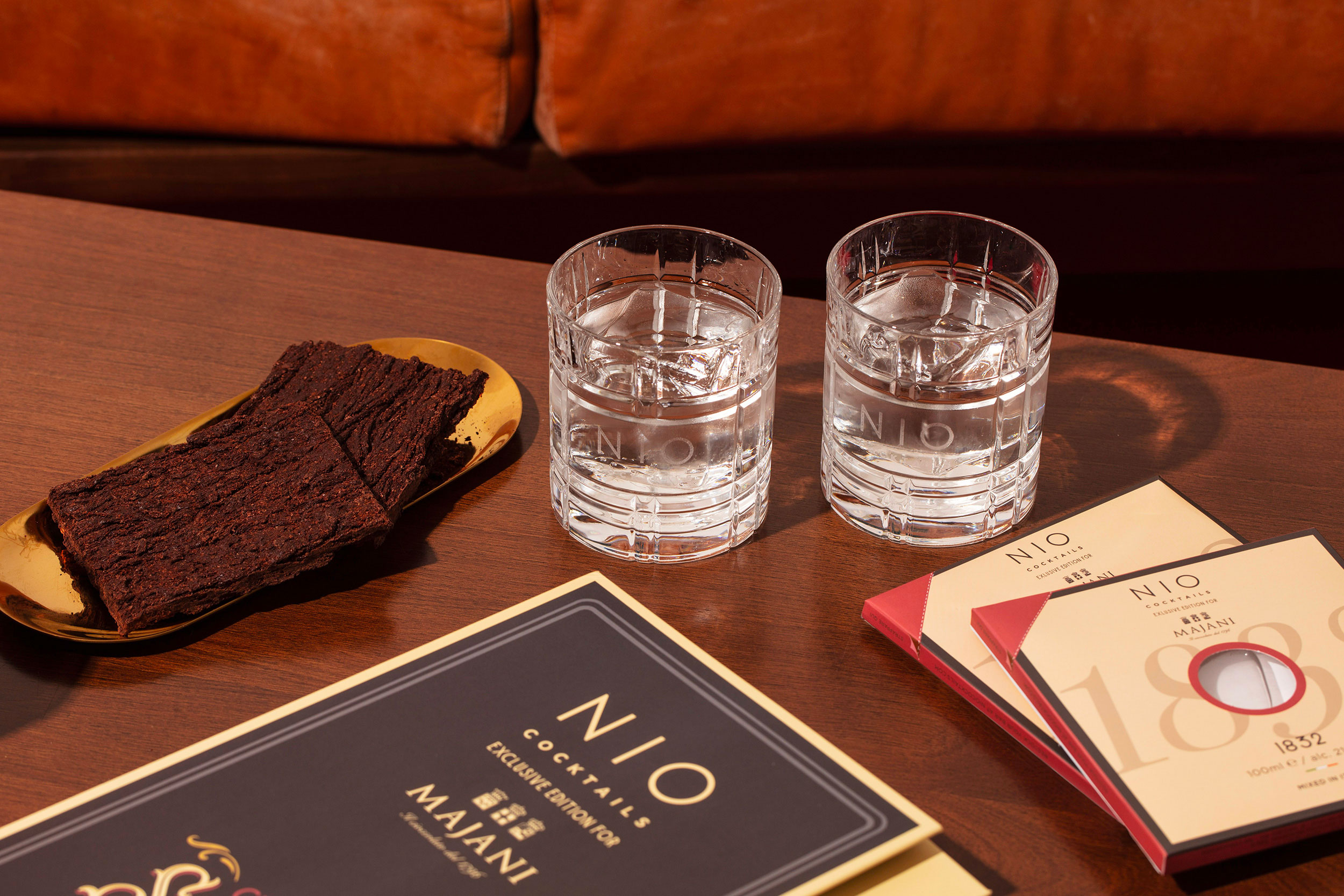 Majani and NIO Cocktails: a combination of quality
Majani was born in 1796 in a small Bolognese workshop, in Italy, and has always been a reference point for the world of quality chocolate. Teresina Majani, founder of the oldest family of chocolatiers in Italy, realizes the first delights of the Ancient House. In 1832 the ""Scorza Chocolate"" was born (which inspired our collaboration) and over the years the popularity of the brand grew more and more - also associating its name with that of FIAT in honor of the launch of the Fiat Type 4 car (hence the 4 layers). Today, as in the past, Majani 1796 realizes his chocolate masterpieces still following the traditional production methods and the ancient recipes handed down from generation to generation. The historical company's expertise is reflected today as yesterday in the excellent quality of its products that continue to sweeten Italian palates.